Events calendar
Daugavpils
Daugavpils Lead Shot Factory is the only one available for tourists ammunition plant in the Baltic States, where is the oldest shot tower in Europe, that still works. Examination of historical devices of the lead casting, with which molten lead gets the ideal bullet shape, falling from a height of 40 meters.
The history of the Daugavpils Lead Shot Factory started in 1886, when Relsers's factory in Dinaburga was mentioned in L.Sabanejevs's "Hunter's Calendar". The factory was described as a large enterprise, which produced high-quality lead shots in the territory of Russia. Since 1886, near many church towers in Daugavpils, there rises also the tower of the Daugavpils Shot Factory, which is 28 meters high and which serves as a good landmark in the city as well as a visiting-card for the factory, at the same time being used for shot casting till nowadays. At first the tower of the shot factory was a wooden construction which was decorated with beautiful coronets and weathervanes in the upper part, but after a fire in 1911 it got its present remarkable look of red brick.
Daugavpils
Daugavpils fortress is an outstanding fortification that occupies more than 150 ha. The only early 19th century fortress in Eastern Europe that has remained virtually unchanged.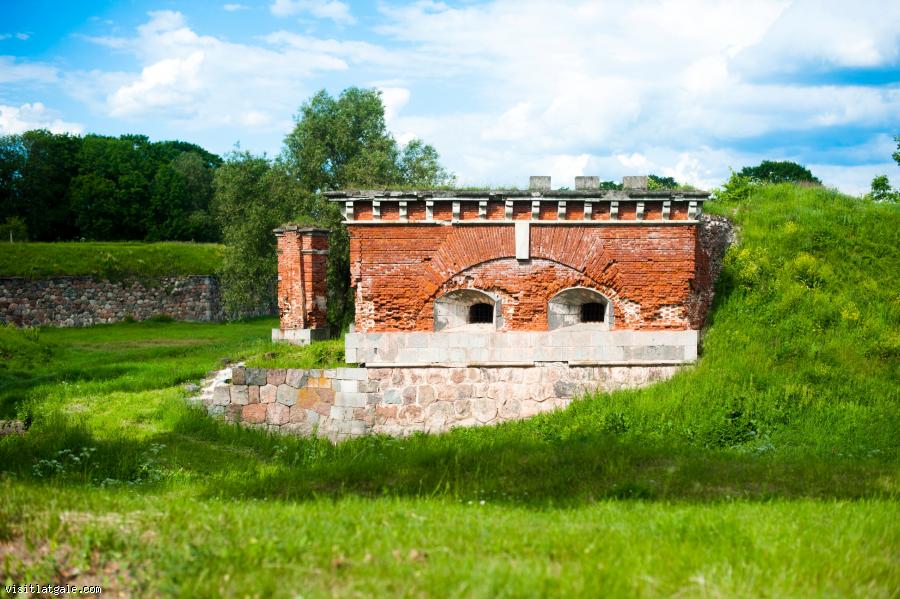 A zigzag line of fortifications is formed by a rampart with 8 bastions, 6 ravelins, 6 counterguards and other protective structures: lunettes, redoubts and a moat. On the left bank of the Daugava River there is a bridgehead. Each detail of the fortress was developed using the construction experience of the best architectural schools of Tsarist Russia and Europe. Inside the fortress was planned as a traditional military town: in the centre there was a parade ground, surrounded by blocks of administrative and residential buildings.
Daugavpils Mark Rothko Art Centre, 3 Mihaila Street, Daugavpils
Daugavpils Mark Rothko Art Centre is a multifunctional complex of contemporary art, culture and education situated in the Arsenal building at Daugavpils Fortress. It is the only place in Eastern Europe where the original masterpieces of the famous painter and the founder of the abstract expressionism Mark Rothko can be seen.
What is Latgale? It's an ancient part of Latvia, almost a quarter of the whole country, where one third of the population of Latvija lives. Historically, Latgale was the region of Latvia from the River Daugava in the East to the borders of the Livian and Slavic tribes. Ancient Latgale (nowadays Vidzeme and Latgale) was under Polish rule in 16th century, and was called "Pardaugavas hercogiste". One hundred and fifty castle mounds in Latgale still show where the region's fortified castles stood, where the aristocratic land-lords and local rulers held sway in prosperity and wealth.
Nowadays Latgale comprises the districts of Balvi, Daugavpils, Kraslavas, Ludzas, Preili and Rezeknes, and two of Latvia's larger cities – Daugavpils and Rezekne.
Latgale is rightly called the Land of Blue lakes or land of lakes. The largest lake in Latvia - Lubans (82,1 km2), the second largest lake – the Raznas lake (located near Rezekne), the deepest lake Dridzis (maximum depth - 63 m), which is the deepest in the Baltics are all found in Latgale. A unique protected natural area is Ezezers with thirty-six islands and Velnezers (the Devil's lake) is famous for its mysterious colours and legends that are told about it.
Latgale greets tourists with its picturesque views, varied mosaic landscapes with its many lakes, forests and hills, and geological curiosities – great stones [the biggest Latvian great stone is situated in Nicgale (130 m3)], glens and slopes. Latgale is characterized by crucifixes at the road sides, steeples of white churches over coniferous forests, manor-houses and castles. Aglona basilica, the world famous catholic religious centre attracts thousands of faithful from manycountries. attracts thousands of people from different countries) to celebrate the Ascension of the Virgin Mary.
You will also find ceramics made by local potters – jugs, pots, vases, plates and candlesticks, glittering glaze in warm earthtone shades – a traditional part of crafts. Each potter has his own specific style, leaving his personal mark on Latgalian craft. Patchwork, different kinds of knitting, crochet, wood, wattle work are popular handicrafts in Latgale.
Take your walking-stick and rucksack! Take your bike and backpack! Put your luggage in the boot and discover for yourself that Latgale is A place where you can relax, enjoy nature and be invigorated!
In this portal you will find precise information on addresses, contact phones. Points of interests to tourists places to spend a leisurely time following your hobby, to arrange a business meeting, to take a meal, to findaccommodation and to find relaxation in whichever way your heart desires!
This portal will help you organise your travel in Latgale, and plan your personal itinerary.
More in-depth information has been prepared by the Tourism Information Centres of the districts of Daugavpils, Kraslava, Preili, Rezekne, Ludzas and Balvi.
Latgale welcomes you!